Born and raised in Naples, but based between Milan and London, Chiara has been working as pro keyboardist and pianist since 1990; she started playing when she was a child, learning classic piano with Eliana Balzamo, and perfecting the jazz piano with SANTE PALUMBO.
She is also a competent guitar player and singer. She has achieved an Advanced certificate Yamaha piano grade 5, the International diploma for Yamaha teacher training.
In 2022, she got a Bachelor Degree at Universitas Mercatorum, in "Science and technology of the arts, entertainment and cinema" with 110 cum laude.
From 1993 until 1997 she was the keyboard player of the girl band Rosavanitosa.

She has played with various artists and musicians, for example B-Nario, performing as opening band for MICHAEL JACKSON, at the SAN SIRO STADIUM, Milan in 1997 and also for EROS RAMAZZOTTI's Italian tour in 1998
(stadiums include: S. SIRO, Milan; OLIMPICO, Rome; S. PAOLO, Naples; DELLE ALPI, Turin; COMUNALE, Florence; DALL' ARA, Bologna, and the ARENA, Verona).
In 2001 she performed in the Neapolis Festival hosted at the SAN PAOLO STADIUM, Naples.
In 2004, she performed in the musical All Bob's women .
She was the official pianist of CASA AZZURRI at the 2006 FIFA WORLD CUP GERMANY.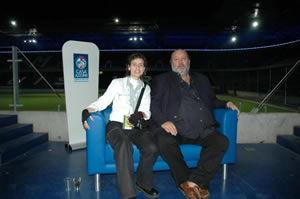 Since 2007 she has been the keyboard player in the band of the neapolitan singer Carlo Smith, performing at Palasharp of Milan (as opening band for Gianni Celeste), and at the Teatro della Luna of Assago (as opening band for Carmelo Zappulla).
Also in 2007 she became the new keyboard player of Banda di Noè (a tribute band dedicated to Adriano Celentano), led by Roberto Noè, who was elected best italian double of Celentano.
In 2008 she was the keyboard player of the Q-Projet band with the Italian singer ALBERTO FORTIS, in the show of music and poetry dedicated to the Nobel prize winning poet Salvatore Quasimodo.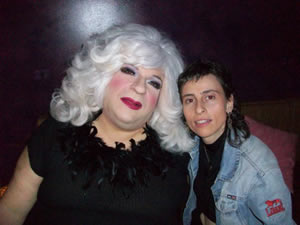 Since 2009 she performs as pianist & keyboardist with the italian celebrity PLATINETTE
In 2010 she performed as keyboard player in the American tour of the Italian tv show TI LASCIO UNA CANZONE.
She has occasionally performed with several artists and singers such as: Enrico Nascimbeni, Dave Baker, Max Laudadio, Franco Oppini, Sergio Vastano, Teo Guadalupi.
She also performed at the 'Salone Internazionale della Musica' with showcases for Yamaha keyboards in 1990, for Casio keyboards in 1992, for Furcht pianos in 1994 and at DISMA 2001, 2003 and 2004 for Roland keyboards.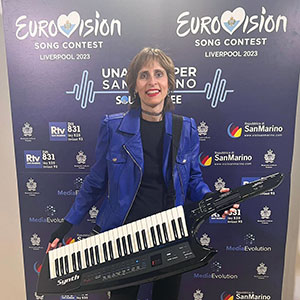 In 2023, she attended the international live music contest "Una voce per San Marino" (linked to the Eurovision Song Contest, broadcasted on RTV San Marino), under her stage name KIARA D.V., together with Pamela Ivonne – Cole, performing their single "My Time", ranking in the top 30 (on more than 1,000 competitors).
In 2012 she was the keyboard player of the band in the daily show E STATE CON NOI IN TV, hosted by PAOLO LIMITI, on air on RAI 1
In 2011, she was the piano accompanist for the talent show STAR ACADEMY, on air on RAI2, together with the famous italian singers RON, MIETTA, SYRIA and GIANLUCA GRIGNANI.
She featured numerous TV shows on Italian TV channels (Rai 2, Rai 3, Tmc, Videomusic and Match music), she was the keyboard player of the orchestra conducted by Gianni Mazza, in the show UN DISCO PER L'ESTATE 2001 on CANALE 5, with JERRY SCOTTI (performing with: Spagna, Matia Bazar, D'Alessio, Di Cataldo, Carlotta, Zarrillo, Barbarossa).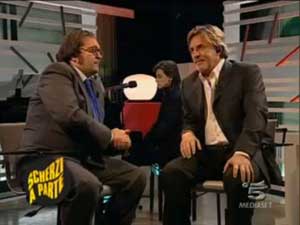 She also featured in the show Ultimo walzer (with F.Fazio and C.Baglioni), on Rai 1, in Saturday night live (Italia1), in 2009;
She performed in SCHERZI A PARTE (Italia 1), in 1997 and again in SCHERZI A PARTE (canale 5), in 2009, performing as pianist in the joke to the american actor DON JOHNSON.

KIARA D.V. discography:
2022: My Time (feat. Pamela Ivonne – Cole) (single)
2021: Top Crime (EP)
2020: Sui Balconi (KIARA D.V. & friends), single recorded in remote, during the coronavirus lockdown
2012: Around The World (album)
In 2016 she was in Honduras for 3 months, working as music supervisor for the reality show L'ISOLA DEI FAMOSI (the Italian version of "CELEBRITY SURVIVORS"), on air on Canale5 (produced by Magnolia TV)
In 2015 she moved to London, producing her own tunes and recording at Battersea Park Studios with English session musicians and vocalists, such as Jamie McCready (guitarist for Kid Creole, Moloko), Pamela Ivonne Cole (BV for Lee Ryan, Angie Brown), Stephen Granville (BV for Brian Ferry, Dave Stewart)
First experience in a major recording studio has was at the end of 80's, to record backing vocals for the Italian singer Nino Buonocore. Chiara is mainly composer,song-writer and arranger, she writes not only songs, but also background music, music for advertising, themes and soundtracks; her tune "Karol" is part of the soundtrack of the film "The day of two Pope saints", inspired by Pope John Paul II and Pope John XXII, produced by Sky 3d. She has written songs for B-Nario, Rosavanitosa, Ondemedie, and background music for production companies, networks and tv shows, such as Mediaset, Alle falde del Kilimangiaro (Rai 3), On the road (Italia 1), Reteallmusic, in cooperation with several labels (Rti music, Idyllium, Groove it, Attiva, Goin-nuts, Blue & blue ).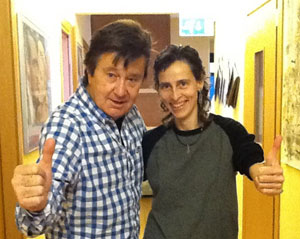 In 2011 she worked as arranger for the new record by BOBBY SOLO.
She has also produced & arranged a new version of the Xmas classic "let it snow" for a fund-raising project, the Xmas cd Gisella Cozzo & Xmas Friends 4 Haiti. (for a printing error, her name, in the cd credits is "Chiara del Voglia"), with special guests Nick The Nightfly, Cristina D'Avena, Ronnie Jones & many others.
In 2007, she teamed up with the composer Christian Schmitz to produce the theme song of the radio show "Dispenser",on air daily on RADIORAI.
"Levaldigi" music advert has been included in the cd compilation Spot Grammy. Most of her tunes are included in a few cd "suite collection" , and in the pop-dance cd "Good music compilation", by Idyllium.
In 2006 Chiara joined the production team of the album "il valzer del moscerino", by Cristina D' Avena (songs for kids & cartoons)
Still in 2006, she started working as freelance musical assistant for MEDIASET: in 2008 she was music supervisor for tg4 news, in 2010 she was assistant at Mediaset Rti studios, working on album "IO CANTO" (winner of a PLATINUM AWARD).

Chiara has passion for writing and in 2014 her romance "Inter Napoli, delitto a Milano" has been released by GoWare Editions.
In 2009 she was guest speaker covering music at the Metafore d'impresa conferences, hosted by prof. Andrea Rea, an economics teacher at the "Bocconi University" of Milan, and the "Sapienza University" of Rome. She has also taken part in a live talk-show discussing the subject " the world of music", for the television network Telelombardia. She also has passion for football, so in the past she was a player of the Italian female team of singers and actresses, playing a lot of matches for charity all over Italy.

Synth : Yamaha Motif 6
Roland Juno-Di, Roland xp 50, Roland D 50, Roland AX (Shoulder keyboard)
Electric piano: Yamaha P70
DAW: Logic X + Motu M4 (audio device)